What is Adult Free Webcam Chat?
Adult Free Webcam Chat is an online video network connecting men and women from all over the world through high-speed live video chat with full audio support.
When you first arrive at our site, you will be granted only Guest privileges. This means that every time you enter a chat room, you will be given a random nickname like "Guest9505".
Unfortunately, guests are not allowed to chat so the obvious thing to do is to register for free. All you need to do is choose your username and password, and enter your email address for verification. Your username will become your nickname. After you have logged in you can change it to any other name. This will be your free lifetime membership at Adult Free Webcam Chat, meaning that you can come back any time you want.
Once you login to your free account, you will have access to a ton of features. We only ask you to register so we can keep a friendly community.
Are all Adult Free Webcam Chat webcams live?
Yes, they are, all Adult Free Webcam Chat models perform live in their chat rooms.
I have a smartphone, can I see Adult Free Webcam Chat live chat on my mobile?
Yes, you can. Adult Free Webcam Chat can be watched in your mobile browser just as well as on your laptop or PC, just type in adult-free-webcam-chat.com on your smartphone and wait for the website to load. You can then enjoy our live models' performances anywhere you go as long as you have an internet connection.
What happens in a private /full private chat?
The private chat allows you to communicate with any model you like one-on-one and face-to-face without worrying about other members who might take the model's attention away from you. Even though Spy mode allows other members to view everything that happens during a private show, direct communication with the model is only reserved for the private chat participants. All you need to do to invite a model to a private chat is click the Private Chat button, choose PRIVATE CHAT from the list, and click START. The price of a private chat is 60 Tokens per minute. The full private chat is very similar to the private chat mode – the main difference is that it provides full confidentiality and does not allow other members to view your interaction with the model. In order to start a full private chat, you need to visit the model's chat room, click the Private Chat button, choose FULL PRIVATE CHAT from the list, and click START. The cost of a full private chat is 90 tokens per minute. You can exit the private chat/full private chat mode any time you wish by clicking STOP SHOW, it can also be stopped at the model's request.
Note: The private /full private chat ends automatically when you run out of tokens.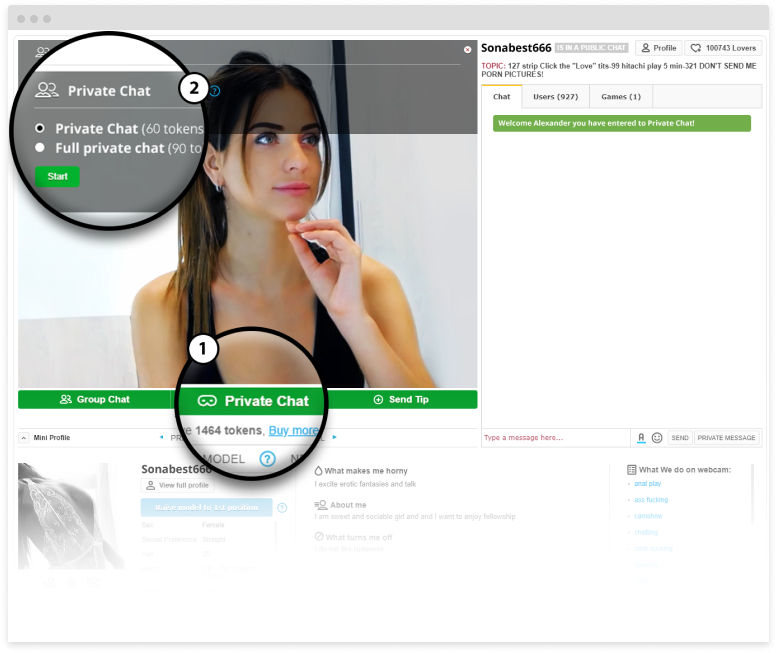 What is the Spy/Voyeur chat exactly?
Spy/Voyeur mode allows members to watch private chat and read all the conversations, but does not allow them to communicate with the models performing there. To switch to Spy/Voyeur mode, you need to open the Spy Mode tab on the main page and choose the chat room you like. The price of Spy mode is 15 tokens per minute. You can exit Spy mode any time you wish by clicking STOP SHOW.
Note: The service ends automatically when you run out of tokens.
Hvad er gruppechat?
En gruppechat er en tilstand, som tillader to eller flere brugere at være i en models private chatrum. Alle brugere kan sende anmodninger om at komme med ved at klikke på "Gruppechat" knappen i modellens chatrum. Alle deltagerne i gruppechatten kan chatte med modellen. Du kan være med i gruppe, som allerede er i gang ved at trykke på "Vær med i gruppechat". En model kan også selv starte en gruppechat. Denne type chat koster 30 Poletter i minuttet fra hver deltager. Du kan forlade en gruppechat på hvilket som helst tidspunkt ved at trykke "Stop show".
Note: The group chat ends automatically when you run out of tokens.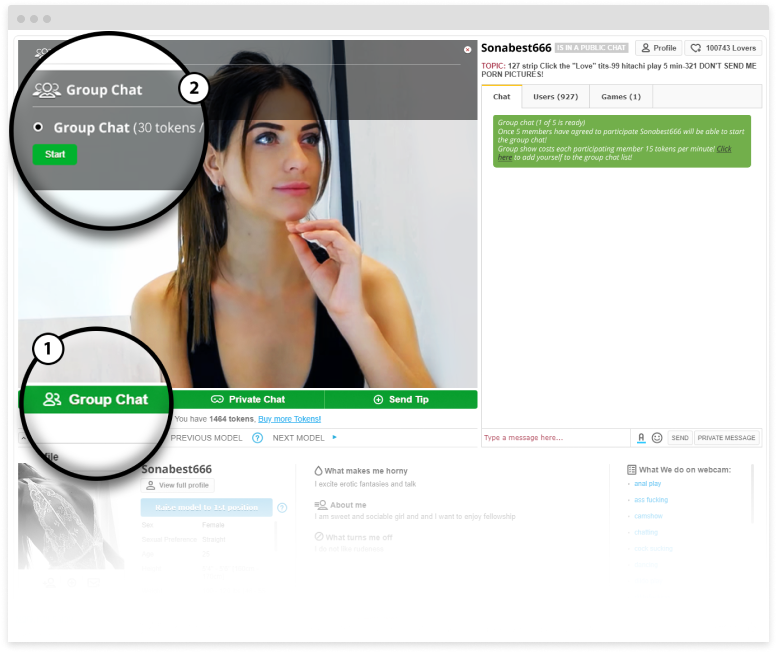 What is the Tip feature?
The Tip feature is just a way for Members to transfer Tokens to a Model's account. Tips are 100% optional, they are not required in any way. Some Members like to give Tips after a Private Chat, while other Members prefer to give Tips to a Model while she is in public chat for simple personal requests or just to be nice. Whether (or how) you use the Tip feature is entirely up to you. Tips are gifts and not bribes, so please do not send Tips and then demand something in return, that's not fair to the Models.
How do I chat privately with Models?
Premium Members can send Private Messages to Models any time. Simply click on a Model's name in the chat users list with your left mouse button and then select Private Message and a Private Message window will open with that Model. You can also click on any Member's name to send them private messages.
Additionally, you can use our Message Center feature to send longer private messages to Models and Members. Feel free to use whatever method you enjoy more.
How do I show my own webcam to the Models?
Premium Members can turn on their own webcam at any time and show it to Models or other Members, absolutely free. Just click the "Start Your Webcam" link on the top-right of the website to start your webcam.
What are the rules here?
Our simple goal here is to have as few rules as possible. We want Members and Models to have fun and be themselves and not worry about arbitrary rules. We provide powerful tools to both Models and Members so that no one has to interact with someone they don't like. Models have full control over their own chat rooms and they can kick anyone out for any reason. They can also block Members they don't like for any reason. If you don't want to be in the Models' black list, don't ask them to do anything via Skype, telephone, messaging app or any other way of communication. Members have access to an Ignore List and can easily Ignore any Member or Model any time.
We only require that our Members do not do anything illegal or overly disruptive to our community as a whole. Here are some examples:
Please do not do anything illegal.
Please do not post inappropriate or pornographic links or images (this is not a porn site).
Please do not use degrading, inflammatory or racist language.
Please do not intentionally disrupt chat rooms (e.g. flooding, spamming).
Please do not intentionally annoy other Members or Models.
Please do not post personal or private information about other Models or Members.
Please do not create usernames with the purpose of impersonating or harassing Members, Models or administrators.
Please do not claim to be a moderator, administrator or employee of this website.
It is helpful to remember that there are real people on this website and if you wouldn't do or say something to someone at a restaurant or bar, then why would you do it here?
We also suggest you to get acquainted with our Terms And Conditions Of Use.
A Model or a Member was rude to me. Kick them out!
On this website, we allow for a great deal of freedom and expression. This is a place where Models and Members can be themselves.
Unlike other sites, we do not impose restrictions on speech or behavior, and we do not force Models to act in a certain way to please Members (or the other way around).
Telling Models or Members how to act would take away the honest and "real" interaction on this site. It would make this site phony and boring.
Above all, it is important to remember that behind the keyboards are genuine people, with genuine emotions, moods, fears, etc. People have bad days, a few too many drinks, miscommunications (especially online), and some people are just nicer than others.
We are NOT here to play a school-teacher. We encourage you to use the Ignore feature to ignore anyone that you do not want to interact with.
I haven't seen a certain Model online. Where is she?
Models on our site do not have to work on a schedule so they generally come and go as they please. We do not know why certain Models are not online nor when they will be back.
I was not satisfied with the show in Private Chat. Can I get a refund?
If you were unsatisfied with the model's performance in the private chat or had some kind of technical issues, please contact our customer support at support@webcamsupport.net and describe your problem.
P.S. Keep in mind that models aren't obliged to fulfil all your requests before asking for a refund.
I have other problems or questions. What do I do?
If you experience ANY problems at all with our site, please do not hesitate to Contact Us right away. We are around nearly 24 hours a day and we will help you with your problem instantly! Live support: support@webcamsupport.net.
How much does this cost? What are Tokens?
The only things that cost money on our site are Tokens that are used for private shows, Group Shows, Spy Shows and Tips. Remember, a Premium Membership on our site is absolutely free and granted to your account automatically with your first Token purchase. You keep your Premium Membership forever even if you never purchase Tokens again.
You can purchase Tokens in various ways. We try to build in a discount for larger purchases. Here are the current Token prices and payment methods that we offer:
Kreditkortbetaling
36 Tokens for $2.99

(~$0.08 per token)

111 Tokens for $7.99

(~$0.07 per token)

285 Tokens for $19.99

(~$0.07 per token)

506 Tokens for $29.99

(~$0.06 per token)

897 Tokens for $49.99

(~$0.06 per token)

1349 Tokens for $74.99

(~$0.06 per token)

9000 Tokens for $499.00

(~$0.06 per token)

17980 Tokens for $990.00

(~$0.06 per token)

46296 Tokens for $2,500.00

(~$0.05 per token)
Once you have Tokens in your account, you can take a Model into a private show or if a Model is in a private show already you can spy on it using our Voyeur Show feature. You can also initiate or join a Group Show or send a Model a Tip.
Private shows cost 60 tokens per minute. That means that if you want to stay in private for 5 minutes, you will need 300 tokens.
Voyeur shows cost one-fourth of a private show, or 15 tokens per minute. That means that if the model is in private for 5 minutes and you are spying on her show the whole time, it will cost you 75 tokens.
Hvordan betaler jeg?
Kreditkort: Visa or MasterCard
You can load your account here.
Always and only pay on our payment page. If not, your account may be blocked.
Du vil blive dirigeret over til en sikker side, hvor du kan betale.
Don't use the browser button "Back". It is an incorrect action and can result in your account being blocked.
If you have problems or questions regarding payment with a credit card, contact our customer support: support@webcamsupport.net.
Payment via SMS
You can load your account here.
Choose the suitable package and country, if it is displayed incorrectly. If the list doesn't include your operator or region, you cannot load your account via SMS at that moment.
Carefully check the text of the message and the number where you send the SMS. Unfortunately we cannot compensate you if you send a wrong SMS.
After sending the SMS, you receive a message with a generated code. Remember that generating the code and sending it takes time. Contact our customer support only when you haven't received the code in 30 minutes after the payment.
The received code must be entered into the field on the payment page. After that your account will be loaded!
What to do if I made the payment but I didn't receive the Tokens?
If you have any problems regarding your token balance, please contact our customer support at support@webcamsupport.net. Be ready to provide our specialists with your information and information on the payment method used and the amount sent.
How can I get FREE Tokens?
You can get FREE Tokens quite easily. Once you register, you will receive 10 tokens for free. Another way of making free tokens is to take part in the Kontanter Tilbage customer program. If you get into the TOP 5, you might win up to 200 tokens as a bonus.
You can also get 50% of your friend's first purchase when you refer a friend to register at Adult Free Webcam Chat.
How much of my money goes to the Models?
Pretty much about 50%. This is what makes us so different from our competitors. Other live webcam sites pay their models 20% or less and treat them accordingly. At Adult Free Webcam Chat, models are our top priority.
Not only do we pay them MUCH more than any other site, but we treat them with the respect they deserve and often work hand-in-hand with them to develop new features for our site.
Here is an explanation:
Customers purchase Tokens in pre-defined packages. Larger packages cost less per Token. But the models are always paid the same amount (0.025 €) per token, so calculating the percentage paid to the model would depend on the package purchased by the member.
| Poletpakker | Pris | Cost per Token | Percentage Model gets |
| --- | --- | --- | --- |
| 26 | 1.99 € | ~0.08 € | about 50% |
| 76 | 4.99 € | ~0.07 € | about 50% |
| 156 | 9.99 € | ~0.06 € | about 50% |
| 462 | 24.99 € | ~0.05 € | about 50% |
| 984 | 49.99 € | ~0.05 € | about 50% |
| 1260 | 65.00 € | ~0.05 € | about 50% |
| 1480 | 74.99 € | ~0.05 € | about 50% |
| 10160 | 500.00 € | ~0.05 € | about 50% |
| 20000 | 990.00 € | ~0.05 € | about 50% |
| 50800 | 2,500.00 € | ~0.05 € | about 50% |
Most of the money spent on Adult Free Webcam Chat comes from the loyal members that purchase larger packages, so the average always comes to about 50%.
How much does video chat room cost?
Free chat is absolutely free where you could chat with Models. Private Chats are paid.
Group chat per minute, tokens: 30
Private chat per minute, tokens: 60
Full private chat per minute, tokens: 90
Voyeur/Spy chat per minute, tokens: 15
What do I get once I register for free?
Once you register for free you'll no longer be a guest but a full registered Member of our site.  You automatically become a Premium Member once you purchase Tokens the first time on our site. Then you remain a Premium Member forever. No additional charges ever.
What is a Premium Member? How do I become one?
"Premium Member" is just a fancy term we use to describe any Member that has purchased Tokens at our site at least once. So if you have ever spent money on our site, you are a Premium Member.  There are NO additional fees or charges, it is absolutely free and you will remain a Premium Member for life.
The best part is that you get access to ALL of our amazing features. Basically, being a Premium Member gives you access to EVERYTHING.  Even if you choose to buy our lowest-priced bundle of tokens for 1.92 euro, you will be instantly upgraded to a premium member for life.  We guarantee you that this is the best value for your money you'll ever see.
Hvem er moderator og hvordan bliver jeg en?
Moderatere er modellernes hjælpere med adgang til specielle funktioner, sådan de kan opretholde orden i chatrummet.
Hvis du får moderatorrettigheder kan du gøre følgende:
Slet uønskede beskeder;
Smid ud / ban brugere;
Bloker brugere fra at skrive i den offentlige chat (lydløs).
Du vil få et specielt ikon, sådan andre kan se, at du har unikke rettigheder i chatrummet.
Du kan se en liste over modererede chatrum eller fjern hakket i "Følger" – "Modererede chatrum".
I "Notifikationsindstillinger" kan du specificiere, hvilke modeller, som kan gøre dig til moderatoer og hvilke notifikationer du vil modtage.
I forgot my password. How can I restore it?
If you have forgotten your password, please visit our Genåben Konto page and fill in the necessary fields. After providing your username and email address, a letter will be sent to you containing instructions regarding your new password.
What are the Models not allowed to do?
The Model cannot show a video instead of a live broadcast. We urge you to report us of any violation of rules.
What kind of models do you have?
Most of our models are female and we have several categories to choose from, e.g. Big Tits, Anal play, College girls, Mature, Shaved pussy, Teens, Toys, BBW and so on. You can also choose from Couples', Male and Transsexual models' webcams to find what you like most.
What are the models' working hours?
All the models choose their own working hours. If you like some models, be sure to check out their profile pages, where you can see when they are usually online.
How can I find a specific model among hundreds of your models?
If you are looking for a specific type, you can use our Search feature which you can find at the top of the website. You can search for models by name, sex, sexual orientation, age, hair and eyes colour, breast size and several other characteristics.
How can I talk to models?
Only registered users can talk to models in their live chats, so make sure to log in once you have registered. Premium and VIP members can also send private messages to models.
How to become a Adult Free Webcam Chat model?
To become a webcam performer at BongaCams, you have to be at least a 18-year-old – 21 in some regions – female, male, shemale, or couple with a working computer, webcam, and good Internet connection. To register as a model, you have to visit bongamodels.com as well as familiarise yourself with our Vilkår og betingelser and Adult Free Webcam Chat Fortrolighedspolitik carefully. Then you will need to fill out a small form and accept our Agreement in order to become a model and that's it!
What do I need to watch a video?
I can't see the video or chat room
If you have problems with watching the video or chat room, we recommend you clean the browser's cache memory, delete temporary Internet files and check Cookies (Cookies must be enabled!).
To clean the cache memory, do the following:
Microsoft Internet Explorer: Tools → Internet options → General → Browsing history
Mozilla Firefox: Tools → Clear Recent History
Chrome: Indstillinger → Tools → Clear browsing data.
If this did not solve the problem, contact out customer support at support@webcamsupport.net and describe the problem in as much detail as possible. We will do our best to help you.
I have other problems or questions. What do I do?
If you experience ANY problems at all with our site, please do not hesitate to Contact Us right away.  We are around nearly 24 hours a day and we will help you with your problem instantly! Live support: support@webcamsupport.net.
Can I buy Tokens without a credit/debit card?
Yes, you can. We have several other payment methods available. You can choose from the following payment methods to buy Tokens:
I wanted to buy Tokens with my credit/debit card, but the transaction was declined. Why?
There could be several reasons why the transaction with your card was declined. First of all, you should check your account for available funds as well as your card's expiration date. Some banks may also block online transactions for security reasons. In this case you should contact your bank to clarify their online payment policy. If you still have the same problem, please send an email to our customer support at support@webcamsupport.net and our professionals will try to find a solution that suits you best.
Are there any recurring charges if I pay by credit card?
No, Adult Free Webcam Chat does not have any recurring charges as we want our members to decide for themselves when they want to buy more tokens.
What will appear on my credit card statement?
We don't want our customers to have any concerns about their privacy. That is why all the transactions with BongaCams will appear under EPOCH or SegPay.
I purchased some Tokens but I still haven't received an email confirmation/receipt. Why?
An email confirmation is automatically sent with each order. To receive our letters you should enter a valid email address when signing up as a member. If you used a valid email address, please check your spam folder, because many email accounts are protected by spam filters. If you find our letters in your spam folder, mark it as regular mail and you will receive all the future letters in your regular inbox.
Why don't the dates of the charges on my bank statement match my purchase dates?
Some banks can delay the transactions until your account is totally cleared and that is why you will see dates of the charges differ from dates of the purchases.
Is my personal information safe at Adult Free Webcam Chat?
Adult Free Webcam Chat has all the necessary security measures to keep your private data safe. Our website uses HTTPS to provide maximum safety to our members and our billing system meets all the international standards and requirements.
I have another question about billing that isn't answered here. What should I do?
If you have any further questions or problems, please contact our customer support at support@webcamsupport.net.